Field Trip
Freedom Boat Club
So one of the neatest things I've gotten to do since starting Average Joe Solutions is Networking. I even blogged about it here. I've settled into 3 different "networks" or events that I really enjoy going to, and people seem to at least be able to handle me once monthly. Last month's YPO St Augustine meeting was held down at the Comanche Cove Marina at Freedom Boat Club. Then this month's Networking in St John's County meeting took a field trip out to. . . you guessed it Freedom Boat Club.
So I thought I'd do a quick write up about the experience. First off, yes I did get to go on a boat ride both times, and yes it was pretty awesome. I grew up on the Broad River in South Carolina. My dad would take the platform that he had built and welded onto our boat so that he could use it for shrimping off during the summer, and we spent a lot of time chilling on a sandbar as kids. That being said, I've never owned a boat but did pilot, or captain one I guess, last year as part of my family's annual work cation trip to Surf City NC. Also I may or may not be allowed back on very large boats due to a "balcony" and harbor master incident last year, but whatevs.
On both occasions that I went to Freedom Boat Club, I was really impressed with the quality of the boats. They literally look brand new. Big giant motors too, and plenty of seating (which is super important when you have 17 children like I do). They have different sizes and kinds of boats and I won't pretend to know much about them, except to say that you can pull a tube behind them, take a casual ride up the Matanzas, or hit the open ocean for some King Fish. (That's a thing right?)
One of the great selling points of the Freedom Boat Club is that unlike owning your own boat, (store it, tow it, put it in the water, gas it up, clean it up, get it back out of the water, tow it back to storage, etc...) All you have to do is let them know you're coming and that's it. You just show up and get on the boat, and go do boat things. They've got an online reservation system, 3 locations here in Northeast Florida, like 150 all over, and are expanding internationally. It really is a pretty sweet deal.
Locally they have 84 boats and add another boat to the fleet about every 10 memberships. If you are thinking of buying a boat, but don't want to deal with the hassle, maybe the Freedom Boat Club is for you. I'm on the fence right now with a new business and all but could imagine entertaining joining in the future. As far as price to join the Freedom Boat Club, you'll have to get ahold of George Biastre at [email protected] If you do get ahold of him, make sure and tell him I sent you. Wonder how many people I'd have to send that way to get a free membership. . .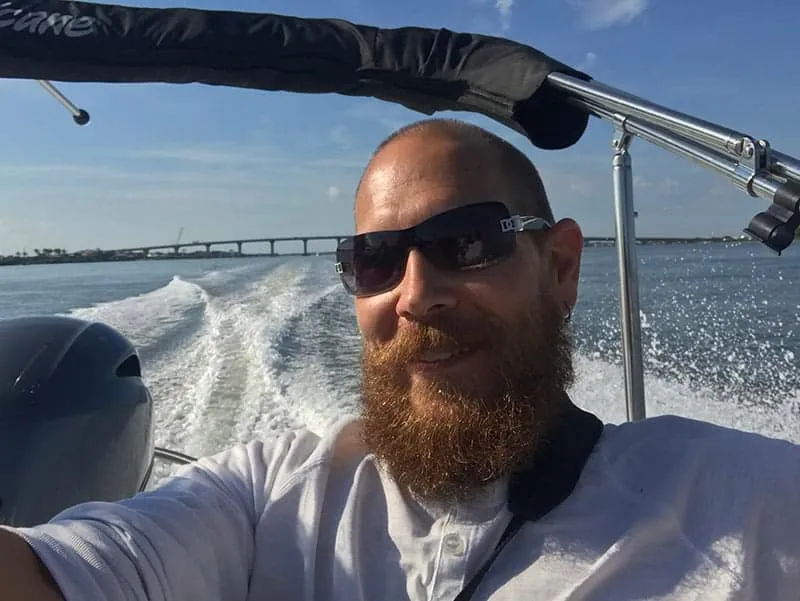 Bonus Pic
of me driving a boat last summer